03.02.2011 15:42:49
Nicolas Cage Türkiye'den ayrıldı
"Hayalet Sürücü 2" filminin final sahnesi çekimleri için bir haftadır Pamukkale'de bulunan Hollywood yıldızı Nicolas Cage, Denizli'den ayrıldı.
Denizli Çardak Havaalanı Müdürü Soner Tuğrul, AA muhabirine yaptığı açıklamada, Nicolas Cage'nin Yunanistan'dan gelen özel bir uçakla bu sabah Denizli'den ayrıldığını söyledi.
Sanatçının Denizli Çardak Havaalanı'ndan transferinin Gözen Air tarafından yapıldığı, eşi ve çocuğuyla birlikte İngiltere'ye gittiği bildirildi.
Bu arada Denizli Valisi Yavuz Erkmen, Hayalet Sürücü 2 filminin tanıtım bakımından çok yararlı olacağını belirterek, "Filmin bir bölümünün Denizli'de çekilmesi, tanıtıma önemli katkıda bulunacak. Filmin bu yıl ya da gelecek yılın başlarında vizyona gireceği belirtildi. Gösterime girmesiyle Pamukkale'yi daha çok kişi görecek" dedi.
Erkmen, Denizli'ye daha çok Avrupa ve Uzakdoğu ülkelerinden turist geldiğini, Hayalet Sürücü 2 filminin sağlayacağı tanıtımla Pamukkale'nin ABD'lilerin de ilgisini çekeceğini kaydetti.
Oskar Ödüllü Nicolas Cage'nin başrolünü oynadığı Hayalet Sürücü 2 filminin final sahnelerinin çekimi, bir haftadır Pamukkale'de yapılıyordu.
http://www.cnnturk.com/2011/kultur.sanat/sinema/02/03/nicolas.cage.turkiyeden.ayrildi/605611.0/
Nicolas Cage, left Turkey
"Ghost Rider 2" for a week to shoot the film the final scene in the Hollywood star Nicolas Cage in Pamukkale, Denizli left.
Denizli Airport Manager Sone Tugrul Arbour, said the AA correspondent, Nicolas Cage was leaving Denizli said this morning on a special flight from Greece.
Airport transfer is made by Air to Denizli Cardak Gözen artist, reportedly went to England with his wife and children.
In the meantime, Denizli Governor Yavuz Erkmen, Ghost Rider 2 movie will be very useful in terms of publicity, said: "The film is a part of the withdrawal of Denizli, will contribute to significant publicity. The film stated that going to be released this year or early next year. Pamukkale than the introduction to my show
Many people will see, "he said.
Erkmen, Denizli, more tourists came from European and Far Eastern countries, Ghost Rider 2 will attract the attention of Americans said the film will provide advertising and Pamukkale.
Nicolas Cage's Ghost Rider, starring Academy Award-winning film the final scenes, shot 2 for a week were held in Pamukkale.
-------------------------------------------
Çekim bitti, anahtarı bile vermeden apar topar gitti
'Hayalet Sürücü 2' filminin Denizli'deki çekimleri zor şartlar altında tamamlandı
03 Şubat 2011 Perşembe, 15:10:22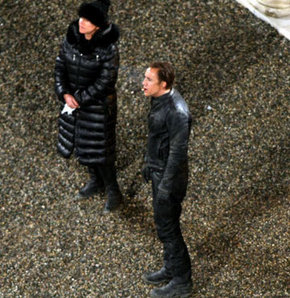 HACI SELAMOĞLU / DENİZLİ (AHT)
Denizli'nin 'Beyaz Cennet'i Pamukkale'de final sahnesi çekilen 'Hayalet Sürücü 2' filminin çekimleri bu sabaha karşı sona erdi. Hierapolis Apollo Tapınağı ve yine ören yerinde bulunan antik tiyatroda çekilen filmin 1 Şubat'ta bitmesi planlanırken, kar engeli nedeniyle çekimler aksamıştı.
Filmin başrol oyuncusu Nicolas Cage, eşi Alice ve oğlu Kal-El Coppola, çekimlerin ardından bu sabah apar topar kaldıkları dairenin anahtarını bile resepsiyona teslim etmeden otelden ayrıldı. Dünyaca ünlü Oscar ödüllü aktör Cage'in, Yunanistan'dan gelen özel bir uçakla Çardak Havaalanı'ndan İngiltere'ye uçtuğu belirtildi.
KRAL DAİRESİNE 250 BİN DOLAR ÖDEDİ
25 Ocak'ta Denizli'ye gelen ünlü sanatçı, Karahayıt'ta bulunan Spa Colossae Thermal Hotel'de özel yaptırdığı kral dairesine yerleşirken, 250 kişilik ekibi için de 220 oda ayarlanmıştı. Bugün apar topar giden Nicolas Cage'in filminde görev alan diğer ekip üyelerinin de öğleden sonra saat 16.00'da otelden ayrıldıkları belirtildi.
Yaklaşık bir haftadır çekimleri süren filmde, dünyaca ünlü sanatçı, çekimler esnasında olumsuz hava şartlarının, dublörünün ayağının kırılması, figüranların setten kaçması gibi sorunlar yaşamış ve çekimler de bu yüzden aksamıştı. Denizli Hierapolis ören yerinde dün geceki final sahnesinin çekimleri de eksi 1 dereceye kadar inen hava sıcaklığı nedeniyle zorlukla yapıldı. Oyuncuların zorlanması nedeniyle sık sık verilen aralarda Cage siyah yünlü montuyla ısınmaya çalıştı. Bu arada Cage'in sadece kendi kalacağı kral dairesi için 250 bin dolar ödediği öğrenildi.
SIKINTILIYDI
Filmden bulduğu fırsatta ailesiyle Pam Otel'e giden Nicolas Cage, burada kırmızı suyun da tadını çıkarttı. Otelde kaldığı sürece kitap okuyan, dinlenen, odasından çıkmayan ve sık sık termal havuza giren Cage'in sabah ayrılırken sıkıntılı olduğunun gözlendiği açıklandı. Denizli Valisi Yavuz Erkmen, filmin Denizli, Pamukkale ve Türkiye açısından önemli bir tanıtım olacağını söyleyerek, "Bu film Denizli ve Türkiye'ye büyük tanıtım yapacak. Filmin bu yıl içinde vizyona girmesi bekleniyor" dedi.
İlki 2007 yılında çekilen, Nicolas Cage ve Eva Mendes'in başrolünü oynadığı filmde, babası ve kız arkadaşının hayatı karşılığında ruhunu şeytana satan, ancak bu değiş tokuş yüzünden geceleri lanetli bir ruha dönüşen motosikletçinin yaşadıkları anlatılıyor.
Shooting is over, went on hurriedly, without even the key
'Ghost Rider 2' movie shots under difficult conditions was completed in Denizli
February 3, 2011 Thursday, 15:10:22


HACI Selamoğlu / DENİZLİ (AHT)
Denizli 'final scene shot in Pamukkale white paradise' Ghost Rider 2 'filming ended this morning.
The Temple of Apollo in the theater of the ancient ruins of Hierapolis, and again the film is planned to end on 1 February, the snow due to disability aksamıştı shots.
The film starring Nicolas Cage, wife Alice and his son Kal-el Coppola, shot this morning, and then hurriedly left the hotel without staying at the apartment key at reception even.
The world famous Oscar-winning actor Cage, a special flight from Greece to England Airport and flew Arbour said.
Presidential suite only paid $ 250 Thousand
On January 25, a famous artist from Denizli, in Karahayıt Colossae Thermal Spa Hotel, placed a special room built by the king, 250 persons in 220 rooms arranged for the team.
Today Nicolas Cage movie to bundle with other team members involved in the afternoon at 16.00 leave the hotel said.
Shooting for a week-long film about the world-famous artist, adverse weather conditions during the shooting, dublörünün leg fracture, extras such as sets of problems to escape and lived in so aksamıştı shots.
Denizli Hierapolis at the site last night in the final scene, shots were difficult because of air temperature down to minus 1 degree.
Forcing the players in between because of the Cage, a black wool montuyla often tried to warm up.
Meanwhile, Cage's own will be only for the king had paid 250 thousand dollars.
Was troubled
Pam finds her family to the Hotel to the Nicolas Cage movie opportunity, where the red or the taste of the water released.
As long as the hotel reading a book, resting, thermal pool, entering the room, haunting and often troubled Cage morning departure was announced that observed.
Denizli Governor Yavuz Erkmen, film, Denizli, Pamukkale and Turkey would be an important introduction by saying, "This is Turkey, Denizli and the movie will do great publicity. The film is expected to be released later this year," he said.
The first one taken in 2007, starring Nicolas Cage and Eva Mendes in the film, the father of his girlfriend's life and soul to the devil in exchange for selling, but it turned into a soul damned motorcyclists at night because their exchange is told.