Reese Witherspoon carried her
Chloe bag
and jacket on the set of
This Means War
in Vancouver yesterday. Reese has been
back at work
after taking a short trip to NYC where she
stopped by The Guggenheim
and
joined fellow spokesperson Patrick Dempsey
at
Avon
's 10th Anniversary Women's Gala fundraiser. She was joined by Tom Hardy for an on camera lunch while her other
muscular costar
, Chris Pine, has been busy prepping for the Friday release of his latest movie,
Unstoppable
. Chris isn't the only star with a film on the horizon, Reese will have an opportunity to top the
holiday
box offices next month when
her romantic comedy
with Owen Wilson and Paul Rudd,
How Do You Know
, opens Dec. 10.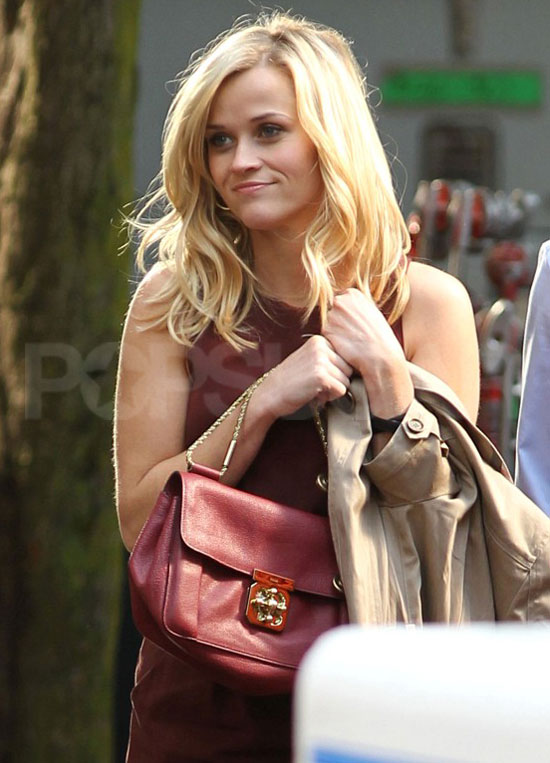 http://www.popsugar.com/Pictures-Reese-Witherspoon-Tom-Hardy-Set-Means-War-11908899
Keanu….Um samurai moderno - Keanu. ... A modern samurai
Keanu….Um samurai moderno
Posted by

keanubr

em

10/11/2010
Por: Deny
Temos imagens inéditas de Keanu,mas do dia 5/11 na West Hollywood…As fotos só foram liberadas ontem…
Como imaginava nosso "The One" já começou a se preparar para 47 RONIN. Seu treinamento deve estar sendo baseado em lutas com espada (já que no filme terá muitas batalhas sangrentas ).
Agora olhem o estilo desse SAMURAI MODERNO carregando a sua espada por aí…Nada de roupas pesadas ou escudos…Imagina…A tendência para eles agora é um moleton básico,oculos escuros,um tênis e claro a sua espada…O que?Tem que se levar a espada…Requisito básico de um samurai prevenido,vai que surge um inimigo do nada e o desafia para um batalha …. kkkkkk
GRACIAS ao
KEANUMANIA
pelas fotos."
source;
http://keanubr.wordpress.com/2010/11/10/keanu-um-samurai-moderno/
"

Keanu. ... A modern samurai
By: Deny
We have new images of Keanu, but the day 5 / 11 in West Hollywood ... The photos were released only yesterday ...
As our thought "The One" has already begun to prepare for 47 RONIN.
Your training should be being based sword fighting (since the film will have many bloody battles).
Now look at the style of MODERN SAMURAI carrying his sword around ... No heavy clothes or shells ... Really ... The trend now is for them a basic sweatshirt, sunglasses, tennis and of course his sword ... What? You have to
... take the sword of a samurai Basic requirement prevented, which will appear an enemy of anything and challenges him to a battle ....
kkkkkk
GRACIAS KEANUMANIA to the photos."
source;
http://keanubr.wordpress.com/2010/11/10/keanu-um-samurai-moderno/
thank you!!!!
http://www.keanumania.com/
http://my.opera.com/celebfan2/albums/show.dml?id=3964232
Back in June, we shared a teaser trailer of the upcoming comedy 'Little Fockers' and today we're getting a longer look at the latest movie of the "Meet the Parents" trilogy.
The Focker and the Byrnes families brace themselves for the arrival of a baby.
The film stars Ben Stiller, Robert De Niro, Teri Polo, Barbra Streisand, Jessica Alba, and more. It's due to hit theaters on December 22.
by Ben Brown

Posted: November 10th, 2010 at 9:39 pm
Elizabeth Banks (Role Models) is in negotiations to join
Chris Pine
in Welcome to People, the directorial debut of screenwriter Alex Kurtzman (Star Trek). Kurtzman co-wrote the screenplay with long-time collaborator Roberto Orci (Transformers), as well as relative newcomer Jody Lambert. If she signs on, Banks would play the alcoholic female lead in the family drama. Hit the jump for the synopsis, as well as some of my thoughts.
[Welcome to People] follows a man who must deliver $150,000 in cash to an alcoholic sister he didn't know he had after the death of their father. Without telling her who he is, the guy also gets involved in the life of her angry 12-year old son.
Admittedly, the premise is a tad… well, Lifetime movie-ish. And Kurtzman, despite his success with such quality properties as Fringe, isn't immune to a stinker or two. (Transformers: Revenge of the Fallen, I'm looking at you.)
But ever since this project
was first announced
, I've found myself oddly intrigued. I mean, come on, a serious familial drama… from the guys who wrote Mission: Impossible III? That's juicy enough all by itself. Throw Chris Pine into the mix, and my ticket just bought itself.
Welcome to People is slated for release in 2012.
Chris Pine Exclusive Video Interview UNSTOPPABLE
by Steve 'Frosty' Weintraub
Posted:November 10th, 2010
With director Tony Scott's new action thriller Unstoppable getting released this weekend, I recently sat down with Chris Pine to talk about his involvement in the movie. Of course we didn't just talk about how intimidating it was to work alongside Denzel Washington, as we also covered things like what did he buy himself since he just turned 30, what was it like to work for Tony Scott and his fast moving camera, did he have friends that wanted to visit him on set, and what's up with the Star Trek sequel and other possible future projects. Hit the jump to check out what Pine had to say and make sure to see Unstoppable this weekend. It's a fun ride.
Finally, you can watch some clips from Unstoppable
here
.
Chris Pine
We talk about how much Rosario Dawson loves Star Trek…and Klingons

Bottle Shock talk

What did he buy himself when he turned 30

Did he have friends that wanted to visit him on set since he was working with Denzel Washington

What was it like working with Denzel and was it intimidating

Working for Tony Scott and the way he moves his cameras

Star Trek 2 talk